Spread the Word... WCS is looking for drivers! No Experience Necessary ~ WCS Provides CDL Training Opportunity for engaging work in YOUR community Current employees are eligible to drive (before or after work)! Flexible Schedule - Work/Life Balance (Nights, weekends, holidays, summers off) Could be as little 3-6 hours a day Opportunity for extra-curricular and charter trips (Optional) Health/Dental Insurance Offered (Employees over 30 hrs) Competitive Wages (starts at $18.50/hour) $2,000 SIGN ON BONUS (upon meeting milestones) Ability to make a positive difference each and every day! Link to Apply:
https://warsawcom.tedk12.com/hire/ViewJob.aspx?JobID=2690
Please do not park in Dr. Thompson's orthodontist parking lot on Mondays. They are gracious other days but see patients on Mondays. If their request isn't honored, parking there any days will no longer be an option. Thanks for respecting our neighbors!

Reminder for Tomorrow: Washington Family Skate Night Thursday, March 16th from 6-8PM Cost is $5 per skater

Parents: The Washington music program for grades 1 & 2 will be held on Monday, April 24 at the Performing Arts Center at Warsaw High School. Please arrive by 6:15pm and have your child follow the signs to their meeting place. Have your child dress nicely, please. The program should last 30 minutes.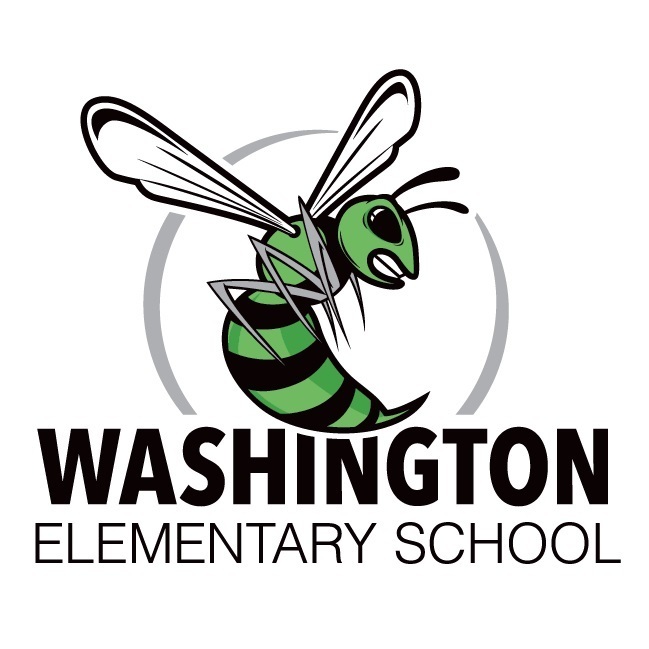 Tomorrow our 5th & 6th graders get to attend an NCCAA basketball game at Grace College! Also, thanks to all who have donated to help a Washington family in need due to a house fire! We are so fortunate to have many hands to help!

Reminder: Riley Children's Hospital Fundraiser is happening this week!!

Kindergarten Round-up is March 21st starting at 6pm. Doors will open at 5:45pm. This is open to all incoming Kindergarten students for the 2023-2024 School Year living in Washington district.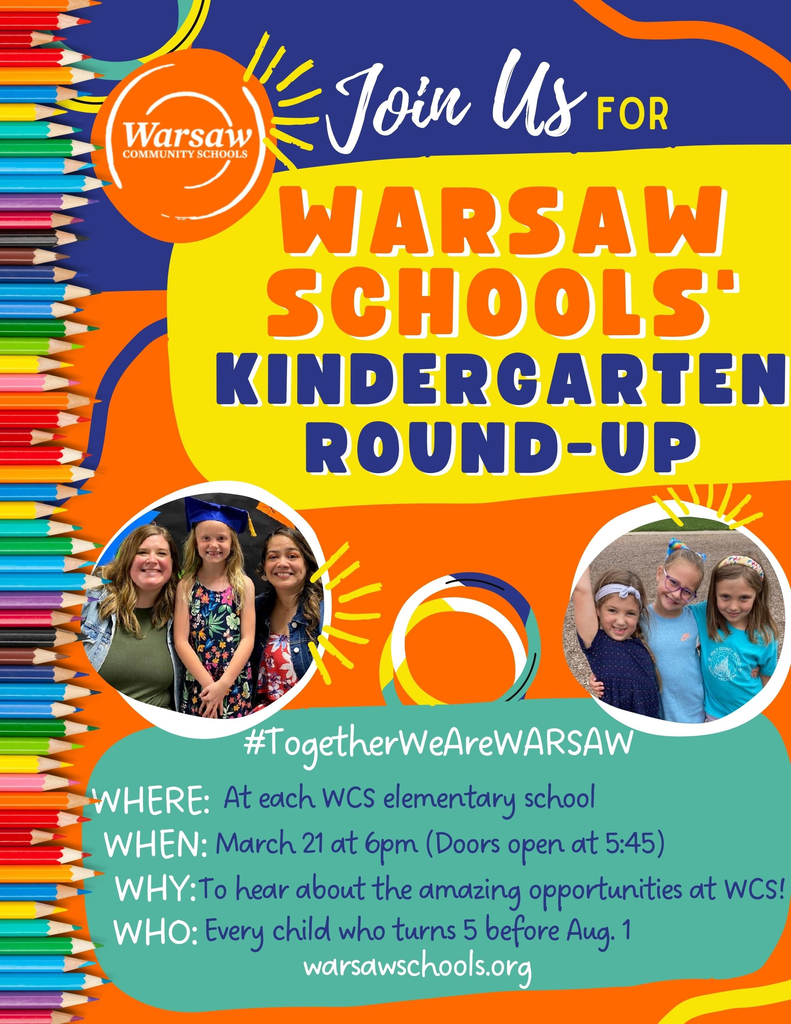 Parents: Is your student missing their coat, hoodie, gloves, hat, and even pants??!! Please check LOST and FOUND! We are busting at the seams. Spring Break- ALL ITEMS WILL BE DONATED TO GOODWILL.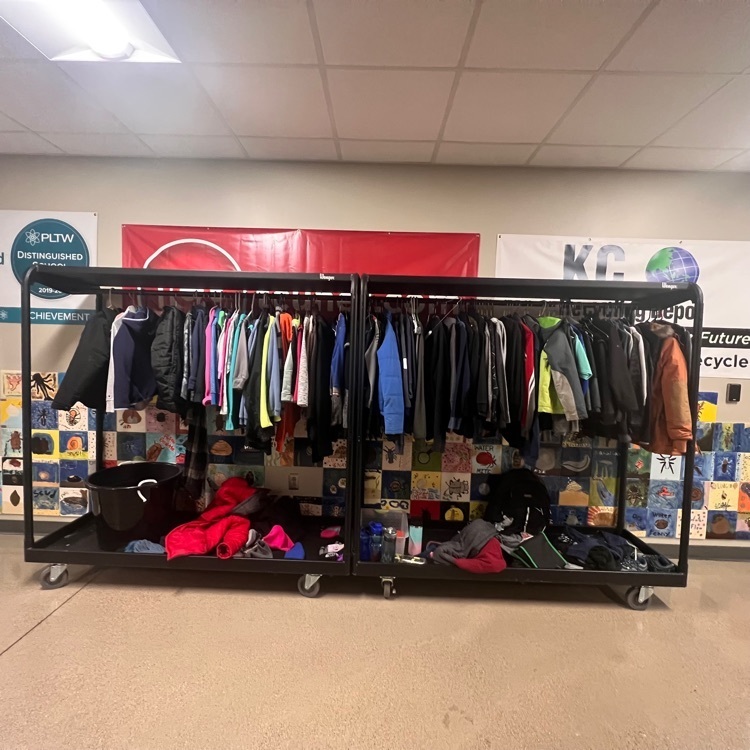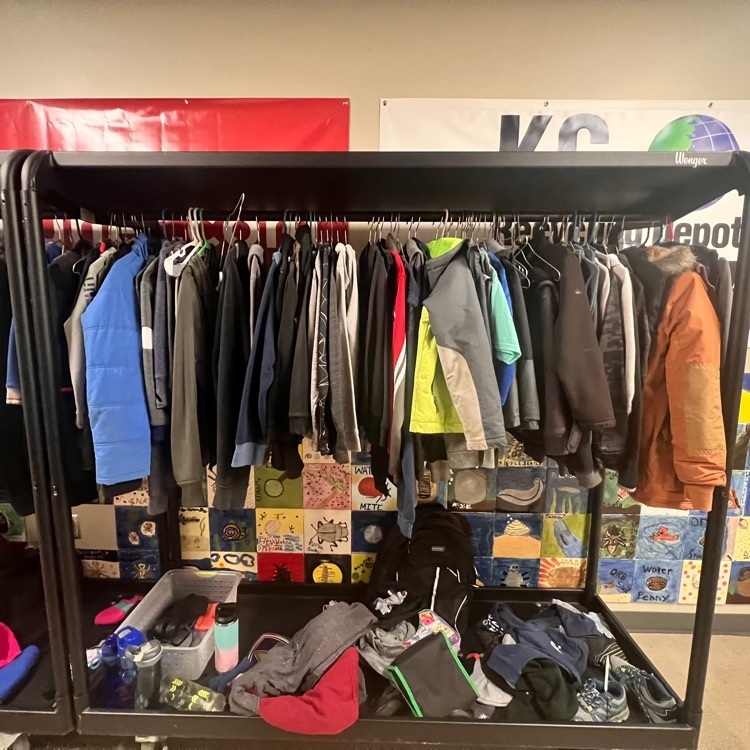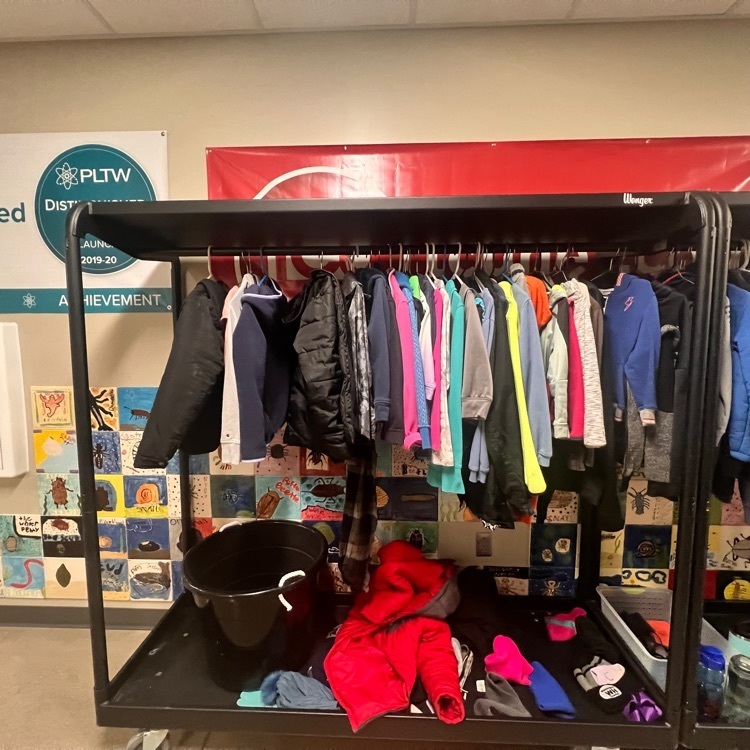 Washington Family Skate Night March 16th from 6-8PM Cost is $5 per skater
Save the Date! WCS will be partnering with Super Shot again this year as a convenient way to get required shots for 2023-24 6th and 12th graders Contact Tracey Akers:
trakers@warsawschools.org
with any questions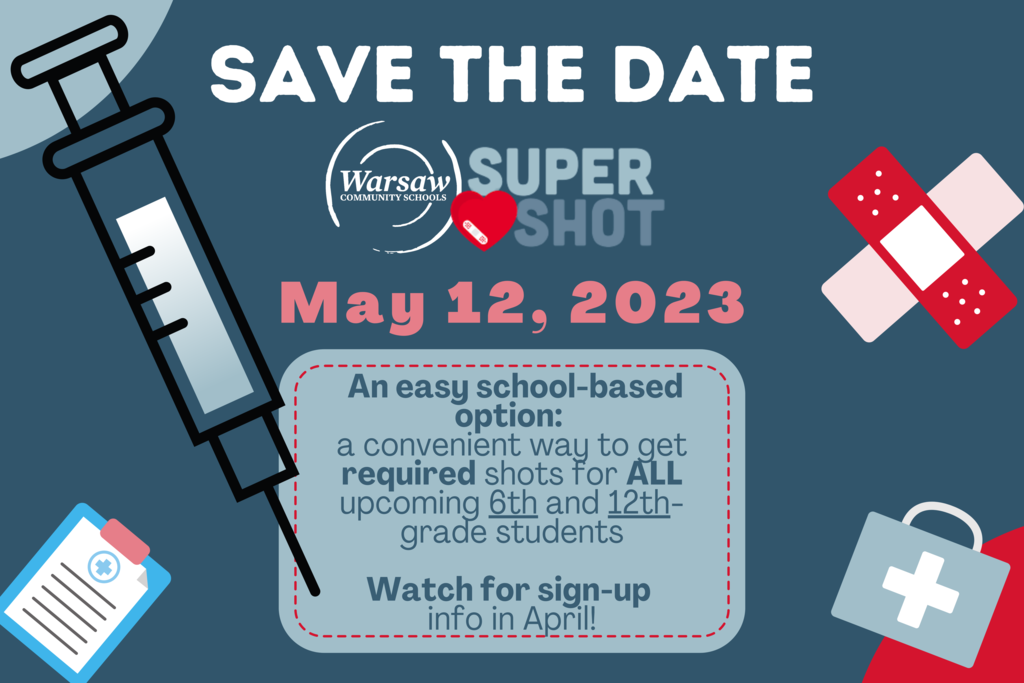 Save the Date! WCS will be partnering with Super Shot again this year as a convenient way to get all required shots for ALL upcoming 6th and 12th-grade students. Sign up info will be coming in April. Contact Tracey Akers:
trakers@warsawschools.org
with any questions.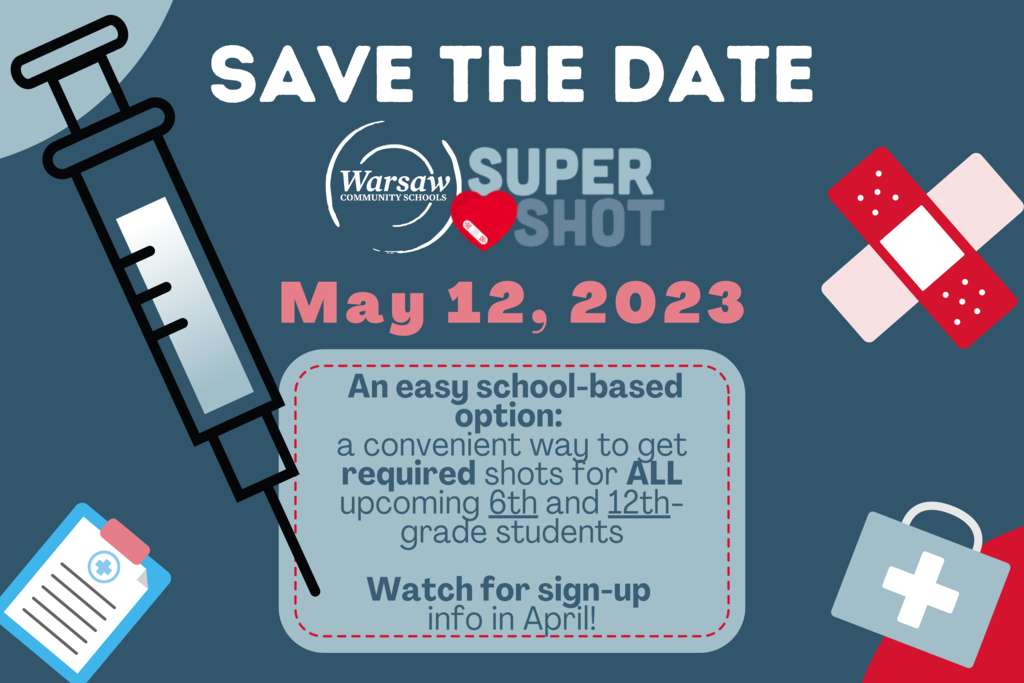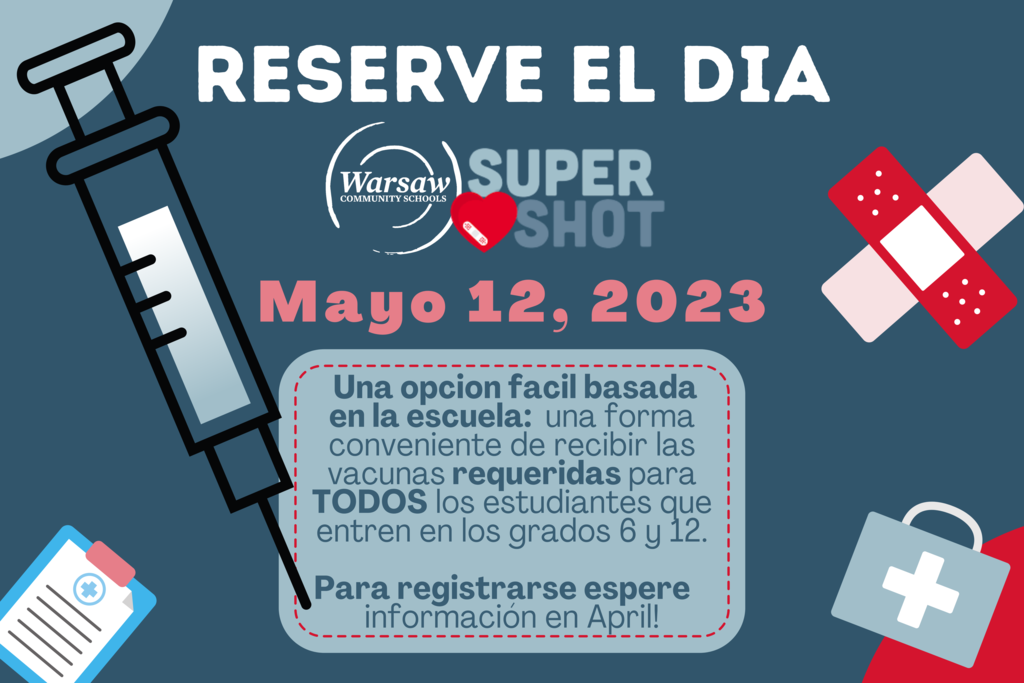 Just a friendly reminder students are allowed to have water only as beverages in their classroom. We would hate for your money to be wasted, so your support is appreciated.
Please join us at Hacienda any time TODAY (March 6th) and Washington will receive 20% of your TOTAL BILL! NO EXCEPTIONS!!! Digital and paper copies are accepted. Also, it is bean week and our Washington 3rd and 4th graders will have their bean art on display in the restaurant!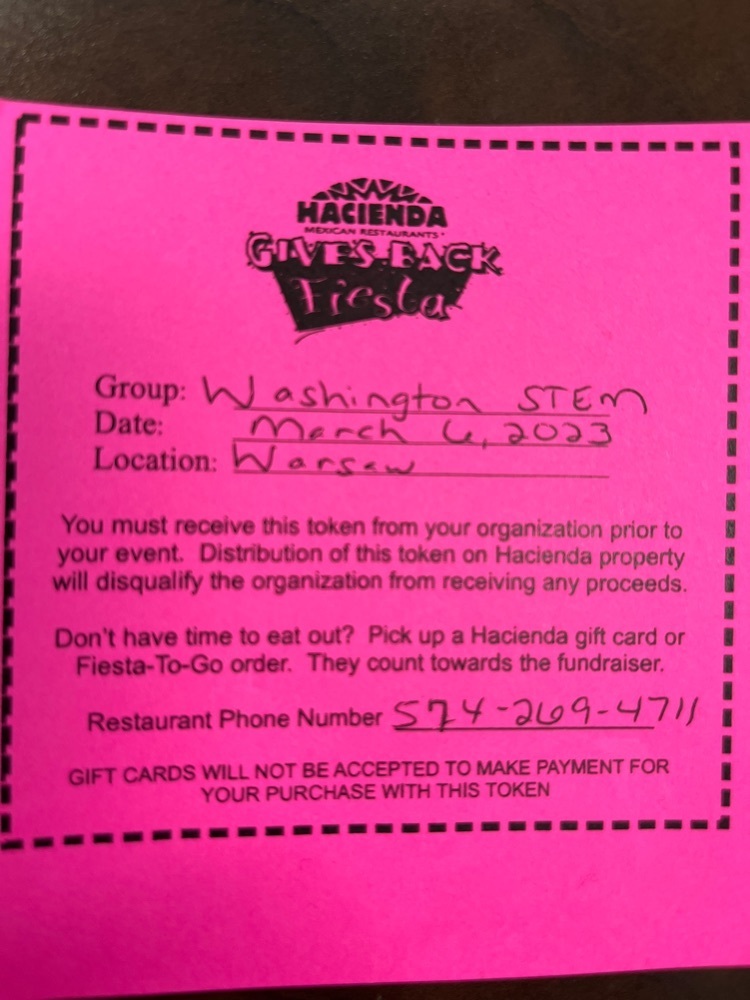 Congratulations to our February Student of the Month winners! We are so proud of you Hornets!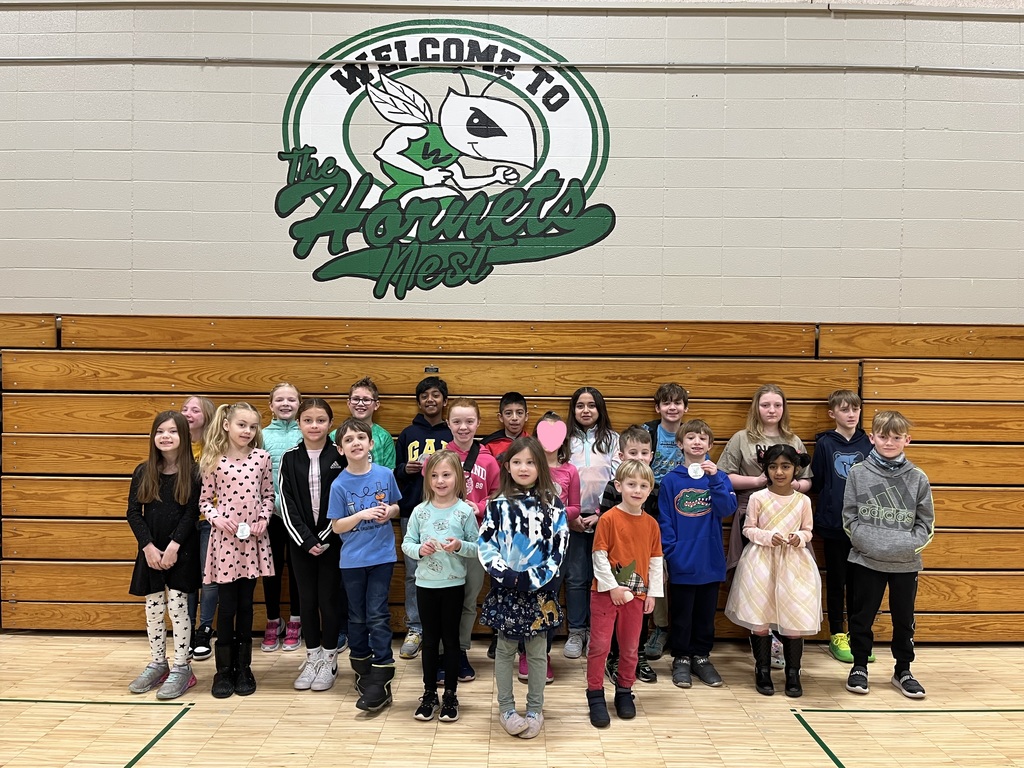 Mark your calendars! We are THRILLED to welcome the future class of 2036! If your child will be five years old before Aug. 1, 2023, we invite you to Kindergarten Round Up on March 21st. Please attend your home school for the round-up event; if you are unsure which elementary district you live in, please contact one of the school offices for additional information. Kindergarten Round-Up will contain important information about registration, immunizations, school safety, before & after school care, along with the STEM and Dual Language Immersion (DLI) programs. Registration for all new K-12 families will open immediately following Kindergarten Round-Up. Registration for returning families will open on April 17, 2023. Registration information can be found at
www.warsawschools.org/o/warsaw/page/registration1
. All incoming kindergarten families interested in DLI must have pre-registration and registration completed by June 1 in order to be entered in the DLI lottery, which is tentatively scheduled for June 7. Welcome Class of 2036! #WCSmission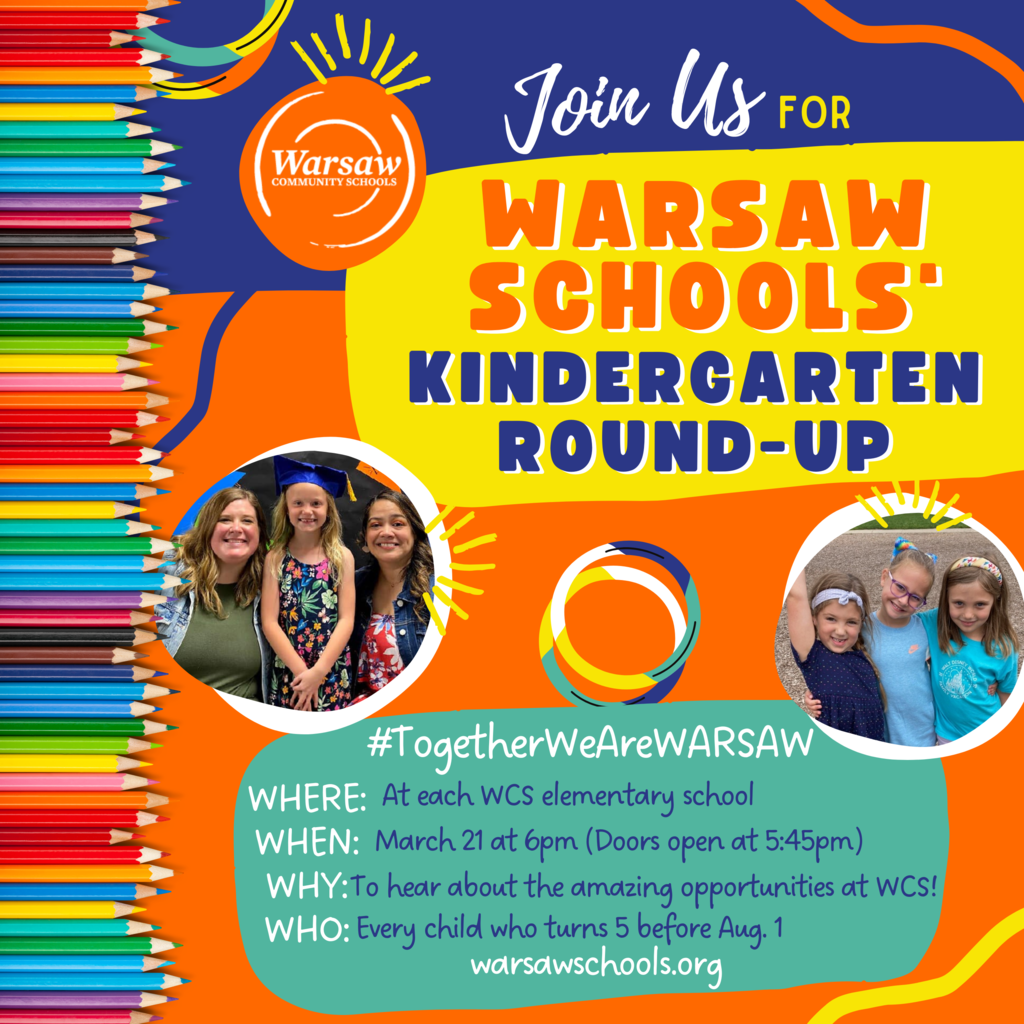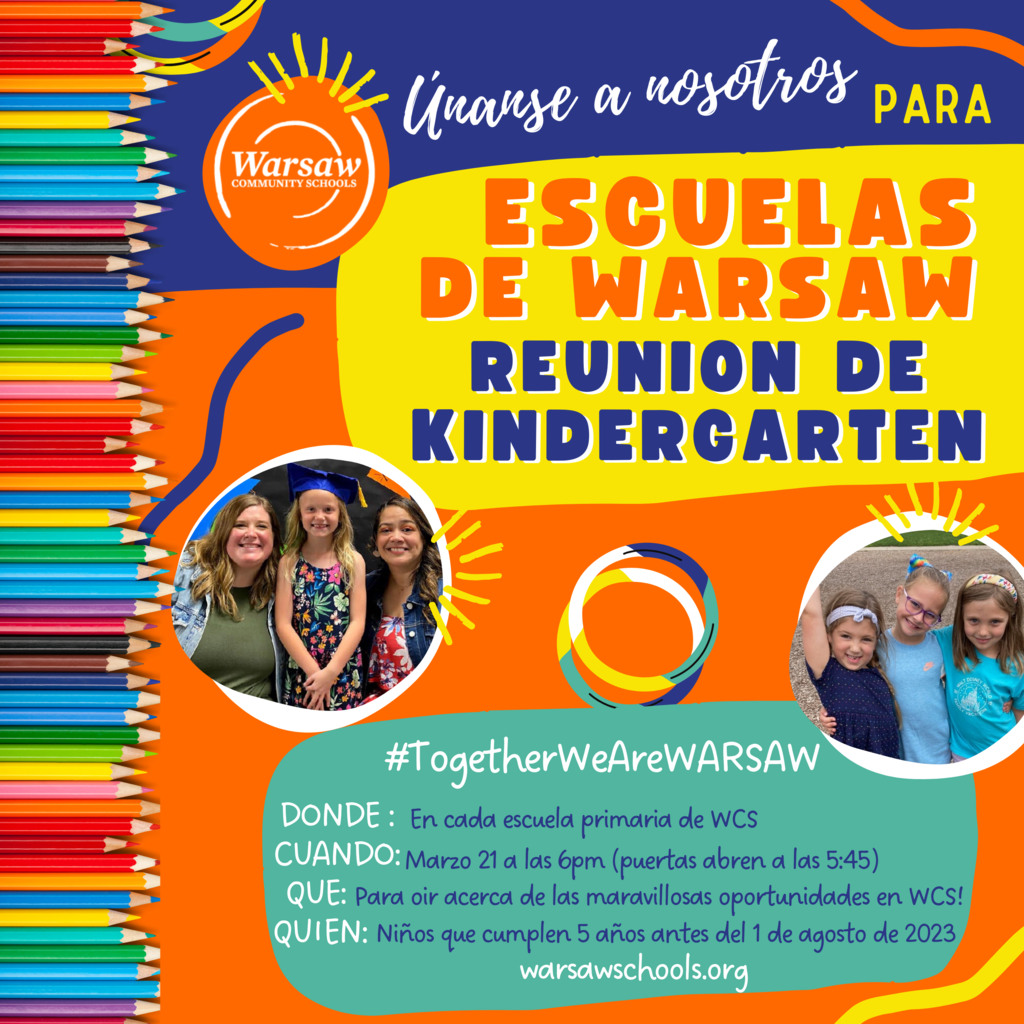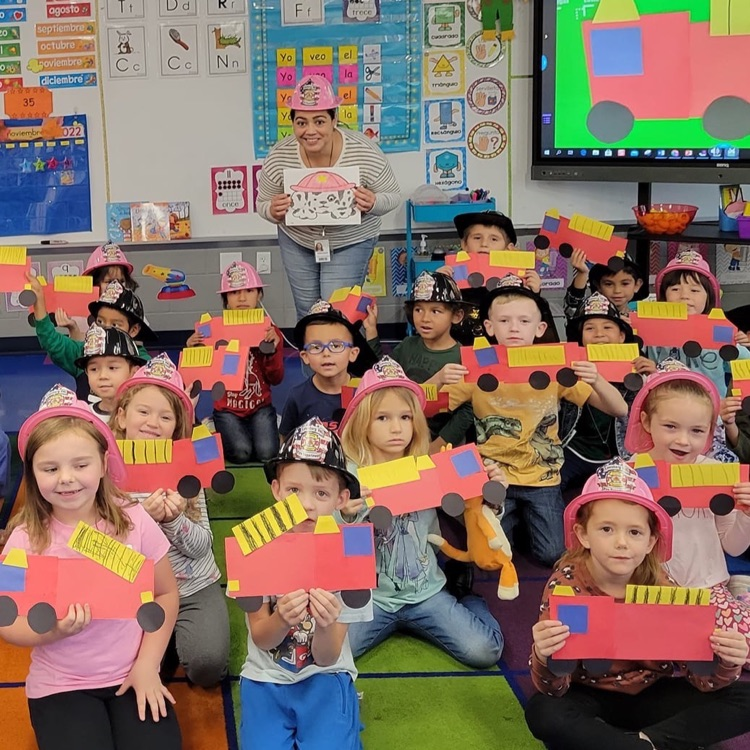 Today, on National School Bus Driver Appreciation Day, we want to take a moment to thank our drivers for all of their hard work. We are grateful for you today and EVERY day! Here are some of the drivers that we are thankful for! #WCSmission #TogetherWeAreWARSAW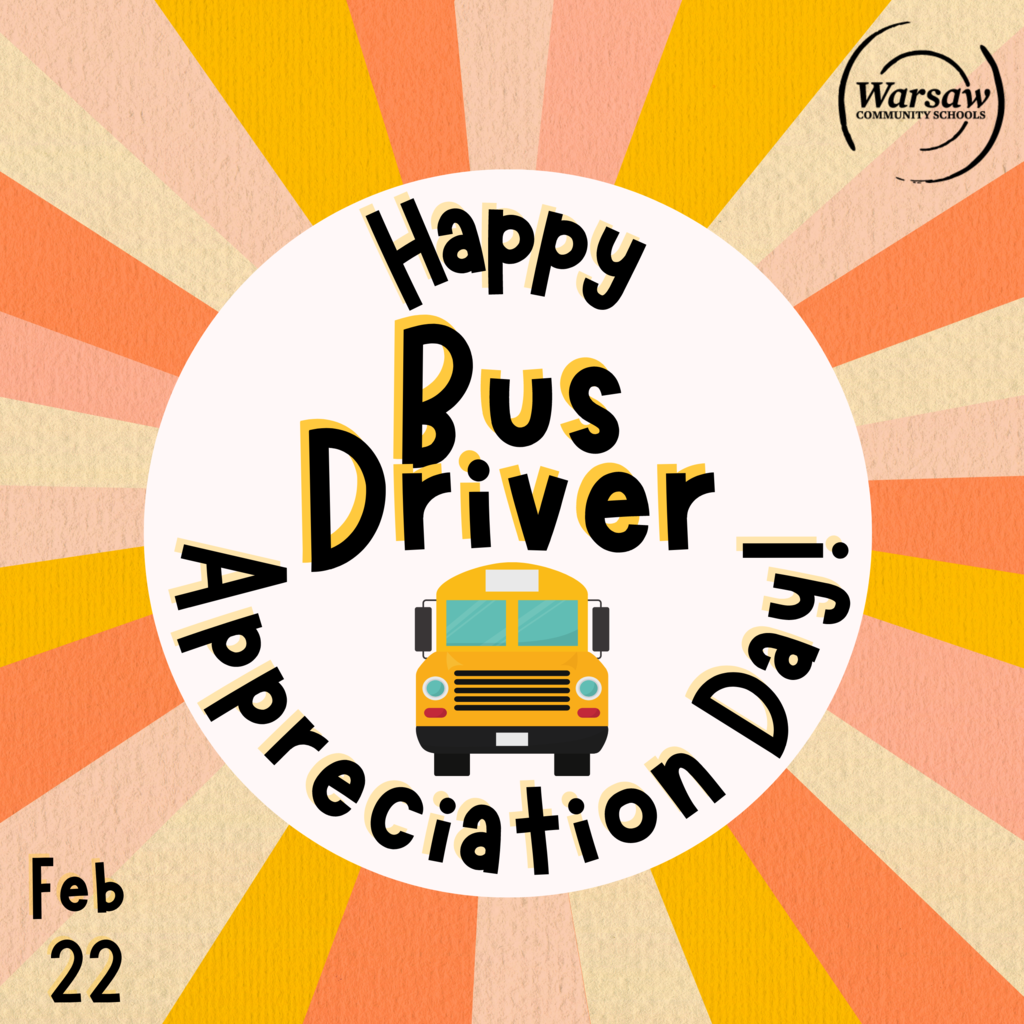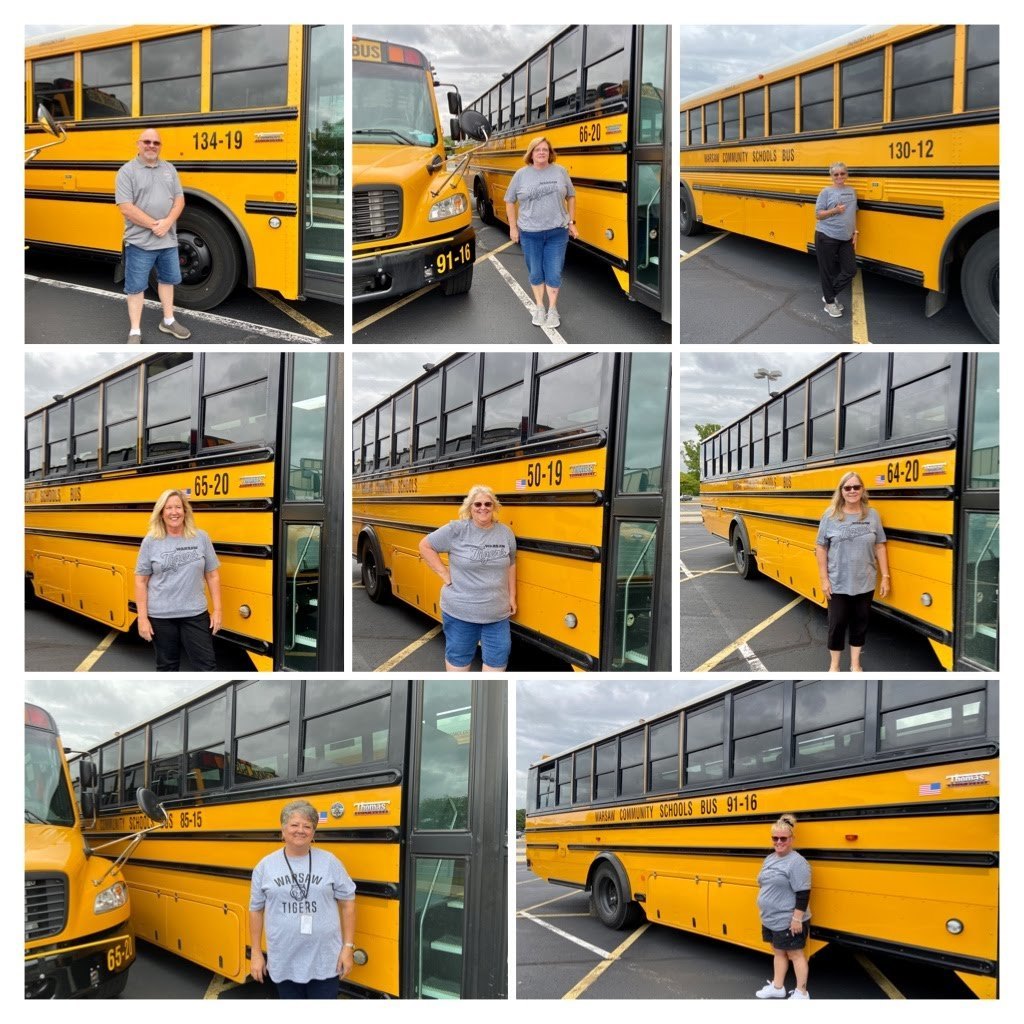 Washington friends and families, we need your help! Next year we are planning to open a clothing closet in our school called the Washington Wardrobe. This will help us to connect students with items that they may be needing on a daily basis. This is a big project and we can't do it without you! We need help stocking the Washington Wardrobe and filling it up with items that we can support our students with. We are looking for new clothing sizes 5 to large, shoes, and any type of new hygiene items. These items can be turned in at the front office anytime between now and the end of the year. We have attached our Amazon list of items we are looking for if you would rather support us online. Thank you so much for helping us support our Washington Hornets! We appreciate you!
https://www.amazon.com/hz/wishlist/ls/3O3W4EHXN2RJO/?ref_=lol_ov_le


Lunch Menu Change for 2/28/23: Chicken Fries will be served instead of Chicken & Noodles! (Due to out of stock issues) Thank you
Friendly reminder for our WCS families...